INTEGRATED ADDED VALUE CHAIN OF ARGENTINE EXPORTERS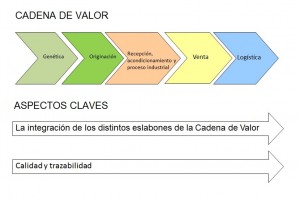 Genetic
To plant NoGMO hybrids focused not only on high yields, but also on having the proper quality that the global market requires, mainly the expansion and appearance.
Origination
In a small and targeted market as Popcorn´s, origination must be intelligent: to produce what market needs, both in quality and quantity.
 Reception and conditioning
There must be enough storage capacity to concentrate the reception of the entire production during the harvesting period.
Conditioning is important to achieve and preserve the main quality attribute of the product: expansion.
It cannot be dried with temperature. Special facilities are required to condition the product properly.
There should also be segregation capacity for different hybrids and qualities.
Finally, it should be able to preserve the product suitable for human consumption during a minimum period of 12 months, to assure reliable supply to customers throughout the year.
 Industrial process
The process involves all cleaning activities to make the product suitable for direct human consumption.
It must guarantee that the conditions established in the specifications agreed in the sales contract are fulfilled, in addition to all the conditions required by the sanitary authorities of origin and destination.
Plants' equipment must be as appropriate to comply quality and certification requirements that customers demand.
Throughout the entire process, quality controls must be carried out, to assure that products are being shipped in accordance with the terms of the contract.
Certifications, Traceability and Quality Control:
Popcorn is a raw material used for human food. Markets which value the quality are increasingly demanding and require the exporter to make significant investments to comply with them.
Logistic
Once the product has been already processed and loaded to the containers, customs controls are carried out at the plant (just in plants which are authorized by Customs). And finally, they are sent to the port and shipped.
In other cases, Dry Port Services are used or cargo is consolidated in warehouse, adapted for such purpose. It is important to monitor shipments' activities every week, controlling the status of cargo from the loading till the arrival to destination.
Marketing
Marketing (Sales) is the key and starting point of the business. Each exporter defines its commercial strategy, considering the following:
Target Markets and Customers.
Sales capacity.
Pricing Policies and Brands.
Financial needs.
Payment Terms and Credit risks policies.
Promotional Activities: Participation in Trade Fairs and Commercial visits.